You like this guy, but it doesn't feel like you're a priority for him and he doesn't prioritize you…What can you do to change things?
Ever get the feeling you're not a priority for him?
Maybe it feels like he would prefer to watch TV, or hang out with his friends, rather than spend time with you…
Not feeling cared for or prioritized in this way can feel disheartening, and even affect your self esteem…
So if you're feeling like he doesn't prioritize you and you aren't getting the time and attention you deserve, I'd like to introduce you to 3 powerful practices that can transform your relationship from casual and sporadic, to one where you feel prioritized, cared for and appreciated.
While it might surprise you, the key to having him value your time more, is for YOU to start valuing your time more…
But how do you do that?
Today, we'll discuss three habits that can help you value yourself more. When you start practicing these habits, your man will realize that he either needs to step UP to be with you, or step OUT so another man can step in.
Prefer to watch a video about this content? Click below!
Still with me? Let's dive in!
3 habits when he doesn't prioritize you
These can help when he doesn't prioritize you and beyond!
Decide On Non-negotiables For The Relationship
In other words, what are the standards your man must live by, in order to spend time with you?
Ask yourself what you want and deserve as a minimum from the relationship.
Decide if you are going to accept sporadic texts and dates, or if you are going to want regular contact with him.
Decide if you are going to accept minimal effort on his part, or whether you want a man who romances you.
As you start thinking about this, and creating your list of non-negotiables, watch for the tendency to make excuses for him! Look out for thoughts like "Well, he's not meeting my requirements, but it's because of the timing in his life, things are busy right now. If I just show him how understanding I am, maybe he will eventually give me the attention I deserve."
This is a common thinking trap many women face when trying to decide what's non-negotiable for them! As a general rule of thumb… if it's been more than a month of him acting in an undesirable way, it ain't about timing! It's likely just who he is.
Related: What to do when a man ignores you
Setting your standards will set the space for a high-quality man who treats you right to show up in your life!
Speak Your Standards
Yes, this means TELLING him what you're looking for in a guy.
If you're nervous about doing this, challenge the fear that says, "I don't want to tell him in case I lose him."
Wouldn't you prefer to lose someone who's not giving you what you want, so you can find a guy who lights up your life instead?
When you tell him exactly what you're looking for in a partner, a high-quality man will respect you for standing up for yourself. Your self-confidence and self-esteem will naturally increase when you are assertive, and speaking your standards is the best way to do this!
Telling him what you're looking for will naturally make him want to exceed your expectations, to 'be the hero' and sweep you off your feet… And if he doesn't want to do those things and he doesn't prioritize you, it's time for him to step OUT of your life. 🙂
By the way, if you want support in developing your self confidence and self esteem, or if you find yourself worrying about exactly how to choose standards that are important to you…
In this multi-month group coaching journey, you'll join a badass group of women supporting each other as you discover a system for setting clear, intentional criteria for a partner.
I'll show you how you can call in a phenomenal man who meets and exceeds each one of these criteria, and how you can build something incredible together.
If you feel a bit lost when it comes to building attraction and developing undeniable chemistry, this program has everything you need to make a love life shift and start enjoying the peace and comfort of having a truly loving, caring man by your side.
Choose to Need Him (Or Someone Better Than Him)
Notice the distinction between choosing to need him, versus unconsciously needing him. Unconsciously needing someone is dysfunctional, coming from a place of lack. It's living out a belief that says, "I'm not complete and I'm placing my completeness in your hands."
However, choosing to need a man is incredibly powerful!
First, because in order for deep attraction to occur, a man needs to be needed — he needs to feel necessary. When a man stops feeling necessary, he feels useless and starts to withdraw.
Second, choosing to need him comes from a place of wholeness instead of lack. You are choosing to share life together and choosing to create beautiful shared experiences. You cannot create a shared experience by yourself, therefore choosing to need your man is opening yourself up to more joy, life and fun.
In this way, you are demonstrating that you are already complete, you're just choosing to celebrate and share that completeness with him.
He Doesn't Prioritize You? Putting It All Together
When you decide your non-negotiables, speak your standards, and choose to need him, you create a powerful state of being. Such that, if your man is able, he will step up…
And if he's not able (you'll discover that early on), he will step OUT, so the right guy can step IN. 🙂
Related: Is he wasting your time?
And when you do have that right guy, you'll be able to feel there's this incredible magnetism and connection between you two.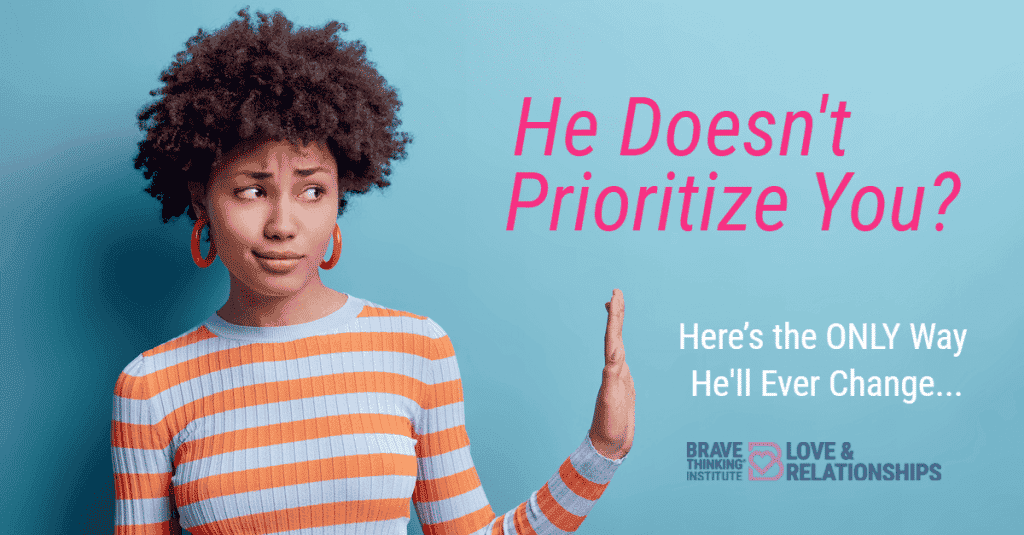 Many of the women in my Manifest Your Man Facebook community share experiences like these every week!
I'd love for you to revitalize the belief that it IS possible… That you CAN have that phenomenal love story you've always dreamed of.
And if you're ready to have that right guy in your life, if you want to get "unstuck", escape your love life "rut", and say "to heck!" with excuses…
Click the link below to take your first step and book a call with one of my team! They will help you clarify what your best next steps are, and make sure you're on the right path to your amazing new man.