A True Story From Jack Canfield About Going After "Unattainable" Dreams
Monty Roberts owns a horse ranch in San Ysidro, California. Several times per year, Monty allows my friend Jack Canfield to use his house to host fundraising events for youth at-risk programs.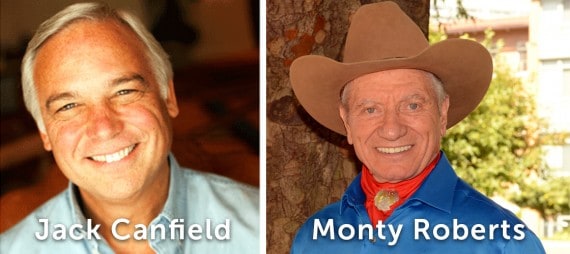 The last time Jack was at Monty's house for a fundraising event, Monty introduced Jack to the group and then proceeded to tell them a story that Jack had never heard before. The story went something like this:
I want to tell you why I let Jack use my house. It all goes back to a story about a young man who was the son of an itinerant horse trainer. This horse trainer travelled far and wide in order to train horses.

As a result, the boy's high school career was continually interrupted. When the boy was a senior, he was asked to write a paper about what he wanted to do and be when he grew up.

That night, the boy wrote a seven-page paper describing his goal to someday own a horse ranch himself. He wrote about his dream in great detail and even drew a diagram of a 200-acre ranch, including the placement of the buildings, stables and of course, the race track.

Then he drew a detailed floor plan of a 4,000-square-foot house that would sit on his dream ranch. He put a great deal of passion and effort into the project, and the next day handed the paper in to his teacher.

Two days later, he got his paper back and on the front page was a large red 'F,' with a note that said "See me after class."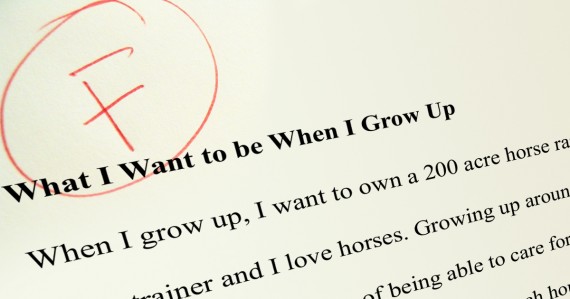 So, after class, the boy went to see the teacher and asked, "Why did I receive an F?"

The teacher responded by saying, "This is an unrealistic dream for a young boy like you. You have no money, you come from an itinerant family and you have no resources. Owning a horse ranch requires a lot of money. You have to buy the land, pay for the original breeding stock and later pay for large stud fees. There's no way you could ever do this."

Then the teacher added, "If you'll rewrite the paper with a more realistic goal, I will reconsider your grade."

The boy went home and thought long and hard about what to do. He finally asked his father what he should do, and his father said, "Look son, you have to make your own mind up about this. However, I think the decision you're about to make is not just important for your grade. I think it's important for you."

After a week, the boy turned in his paper to the teacher. He hadn't made any changes to it at all. He told his teacher, "You can keep the F and I'm going to keep my dream."

After telling this story to the audience, Monty then said, 'I tell you this story because you are sitting in my 4,000-square-foot home in the middle of my 200-acre ranch. I still have that school paper framed right over on top of the fireplace.

The best part of the story is that two summers ago, that same school teacher brought 20 kids to camp out on the ranch for a week. When the teacher was leaving he said, "Look Monty, I can tell you this now. When I was your teacher, I was something of a dream stealer. During those years I stole a lot of kids' dreams. Fortunately, you had enough gumption not to give up on yours."
Why a Realistic Person is More Dangerous Than a Dreamer
There are three keys that we can take away from Monty Roberts' story today.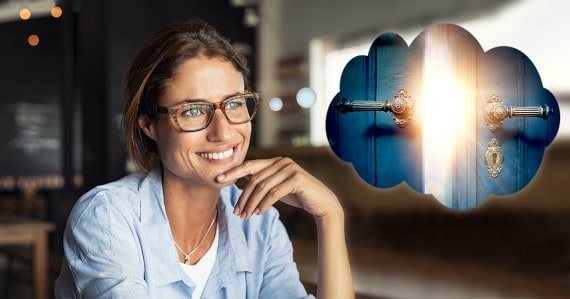 1. Your imagination is a treasured gift.
Your imagination is a mental faculty that can create possibilities.
Think of it this way: When you dream of something you've never seen or had, this thing is actually real; it's simply not yet in the land of form.
You see, everything is created twice, first in thought and then in form.
For example, the clothes you're wearing right now and the device you're using to read this blog post – whether it's a computer, smartphone or a tablet – was first a thought in someone's mind before it was created in physical form.
When we become aware that everything is created twice, we can begin to understand that the source of the things we want in our lives is our imagination, which means your dream is the key to having anything you want.
The bottom line?
Don't let anyone steal a dream you have for yourself.
Instead, guard your dream closely and use it to create a life you would love.
2. People who dream are the only ones who have a chance at turning their dreams into their results.
The power to manifest great dreams lies in the power of your own thoughts to shape your reality.
Since your thoughts control your circumstances, you can use them to shift your circumstances.
You have the ability to design your life plan as long as you use your thoughts to create the life of your dreams!
Your subconscious mind can't distinguish between productive thoughts and limiting ones.
What you plant into your brain is what you harvest, so focus on dreaming of what you want, and you'll be on your way to success in no time!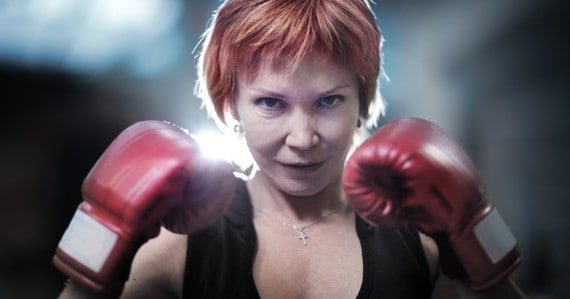 3. Hold onto your dream regardless of what anyone else says.
If you've ever been led to believe that your dream was unrealistic, or that you weren't special or worthy of your dream, know that this simply isn't true.
Whether you're currently working at a job because of the money but it's not work you love, or you feel like you've disqualified yourself from having a happy life, I'm here to tell you that simply because you dream of being happy means that you deserve to be happy!
If you're in love with your dream, you deserve it because you're connected to the very power breathing you.
The Universe is generous and loving, but it can only grow the things we are giving our attention to.
So, decide today that in the future, no matter how many times you put your dreams on the shelf or if you procrastinate on taking action on your dreams because someone else doesn't believe in you, you're going to dream your dream anyway.
In your own life, what dream did you have that you were told was unrealistic or unattainable?
What did you do about it next?
Go ahead and write your answer in the comments section below??????
Introducing "Developing the Mastery of Intention," a free 10-minute guided audio meditation. Normally, you can only access this audio download inside my Power of Purpose™ meditation series, but right now, this meditation is my gift to you, absolutely FREE!