How to Experience Greater Peace, Love and Harmony – Even When Things Aren't Perfect
It's no secret that life can feel overwhelming around the Christmas season, and it's easy to see why.
You may feel yourself becoming so caught up in the hustle and bustle and stressing about having conversations with certain family members that you forget to enjoy the celebration!
Christmas time is meant to be filled with joy, merriment and thankfulness, but for most people, family gatherings during the holidays are rarely stress-free or picture perfect – even though the media often portrays them to be.
For one thing, many people have complex family structures – parents divorce and remarry, families blend, etc. – and as a result, holiday traditions can clash.
These traditions are deeply rooted in our religions, identities and childhoods.
In short, they are emotionally-charged, and it can be easy for feelings of disappointment and tension to arise.
And as a wife, mother and grandmother of a blended family, I know from personal experience that family holidays can be some of the most challenging times in a person's life – which means they are also VERY important when it comes to personal growth…
So today, I'll be sharing a mindset tool you can use to transform your holiday stress and develop an inner harmony in your life that carries over into your family gatherings.
You'll discover how stressful holidays can be transformed into cherished family moments, leaving you with feelings of peace, love and connection, instead of feelings of frustration, hurt and resentment.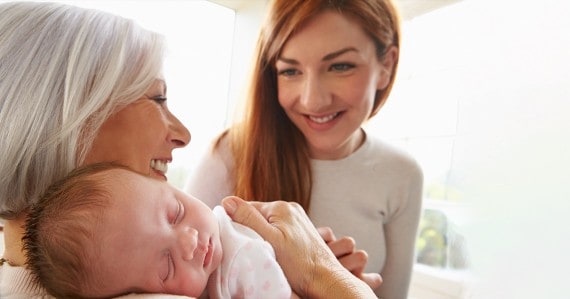 A story of love
A woman I once knew shared a story with me about the birth of her first grandchild – a girl.
The woman and her daughter had a long history of not getting along very well. However, when it came time for her granddaughter to be born, her daughter called and invited her to be there for the birth.
She travelled clear across the country and made plans to stay for a few days.
After 50 hours of labor, the mother called me and asked me to pray that everything would go well. And finally, that little baby girl was born.
The woman, now a new grandmother, wanted so much for their time together to be a chance to reconnect, but over the next few days, the former difficulty in their relationship resurfaced. She knew how precious this time was but it didn't go as well as she had hoped and she felt hurt and upset.
The night before she left, she thought about what to say to her daughter. She wanted very much to seek retribution and to say things like:
"Someday, your daughter is going to say things to you,"
and,
"You're going to want your daughter to appreciate and understand that you may have made mistakes."
But as she sat across from her daughter and pondered what to say, she told me she suddenly heard a voice that said, "refuse retribution."
So, instead of saying what she had thought about saying, she said,
"You know, as you look at your little girl right now, I feel the love you have for her, and I know you'd throw yourself in front of a truck for her. I feel that way about you."
And she said her daughter looked at her with a surprised look and began to weep, and they hugged and connected. And the woman realized that she didn't have to say anything about retribution; she just needed to speak about her love.
At that moment, love won and a new connection began to grow.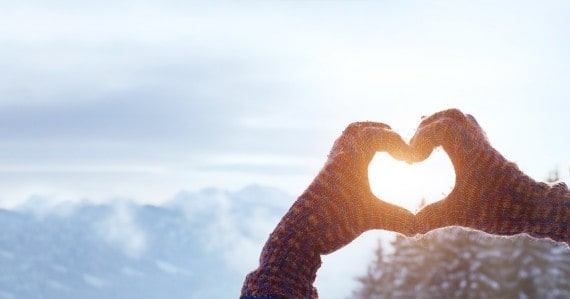 Love grows where it's made welcome
There's a lyric in Joy to the World, a famous Christmas carol, that says, "Let every heart prepare him room." In other words, let us all prepare room for love in our hearts – and for love to guide our words and actions.
As you gather with loved ones this holiday season and old memories start to resurface, you may discover that it doesn't take much time or energy for unhealed wounds from the past to turn into fresh feelings of irritation, hurt or disappointment.
Just remember: Love grows where it's welcomed and fostered.
Love must be invited in, nourished and allowed to stay; otherwise, it will reside outside of you, where it has always resided, waiting for the opportunity to show you that there is so much more to family than simply passing time together.
The Law of Attraction states that what you focus on, you will attract. Therefore, if you focus on love, you'll attract more love into your life. It might take more effort to focus on love, but it's worth it!
One great way to focus on love is to practice putting it first – before any other emotions. So, instead of focusing on the negative feelings that may come up for you, look first for the good in everything that you can find, including your family members.
This doesn't mean you have to like (or pretend to like) everyone or everything that happens. It's simply a practice of placing your attention on something other than your unwanted emotions and taking responsibility for what you would love to experience.
When you practice this mindset shift of welcoming love into your life this holiday season, you may notice the stress melting away as you find yourself cherishing more moments with your family and loved ones.
And now, I have a question for you…
What's one thing you're grateful for when it comes to YOUR family?
Go ahead and share your thoughts with me in the comments below – I'd love to hear from you!
As we head into the holidays and quickly approach the New Year, I'm so grateful for YOU. Thank you for investing your time in growth and love, by reading this blog today. Thank you for being open to the opportunity to focus on and spread love in your family, even when times are stressful or unpleasant.
No matter how – or even if – you choose to celebrate, may your heart be filled with love and light this holiday season.
And if you find yourself looking forward to the end of the holidays instead of enjoying the present moment, I invite you to pause, shift your focus to love and gratitude, and reclaim what's meant to be a time of appreciation, excitement, joy and peace.
Make up your mind that this is going to be your happiest holiday season ever.
Your decision to emphasize the love in your heart has the power to bring out the best in you and those around you. The truth is that this time of year offers us all a wonderful opportunity to rekindle the spirit of love and live life to the fullest.
From my heart to yours, Happy Holidays!