If you're traveling to a live event soon, and you want to make sure that you have everything you need to reap the full benefits of attending the conference – read this!
Traveling to a live event or attending a conference, especially if it's out of town, can bring a mixture of feelings – anticipation, excitement and also probably even a little fear of the unknown!
However, there are several things you can do to make sure you're fully prepared to gain maximum benefits from a conference. The goal is that when you arrive, you have everything you need to walk into the room, be fully present, and soak up everything you can.
Here are three simple travel tips to help you prepare for any live event or conference you're heading to this year
TRAVEL TIP #1: Make a Checklist
When traveling to any destination, there are many details to organize, including planning your route, booking your accommodations and packing your clothing and other essentials. With so many details to manage, it can be easy to forget something! This is why a travel checklist is so helpful.
Just by Googling "travel checklist," you'll find tons of done-for-you travel checklists online that you can print and use for free. Or, you can make your own packing checklist!
If you choose to make your own travel checklist, I recommend sitting down with your favorite hot beverage a few days before you have to leave for the event, and writing out everything you think you'll need to do to prepare for it.
This way, you're generating your travel checklist in a relaxed state, versus frantically jotting things down on a piece of paper the day of, which could lead you to forget something.
Here are a few ideas for what to include on your travel checklist:
Important travel documents: Make sure to include your passport, airline tickets, flight itinerary and confirmation numbers, hotel address and phone number and conference information.
Luggage packing list: Create a packing list for what to put into your luggage (a simple and easy wardrobe checklist is below).
Gadgets: This usually consists of your phone, charger and headphones. You may or may not need your laptop – often, you can get away with just bringing a notebook and pen to take notes, rather than having to carry around a heavy laptop all day.
Other travel goodies: For example: Neck pillow for the airplane, disinfecting wipes, protein bar or other snacks, breath mints, bandaids and a water bottle.
There are also several travel apps that you can add to your smartphone that can help you organize your trip! These include apps Tripit and GateGuru.
Let me know in the comments below if there's other apps you love for travel planning!
Also depending on your destination, there are smartphone apps that offer city guides to help you navigate the place you're in. Depending on the event, there may also be a conference app that will provide you with the conference agenda and help you connect with other attendees!
TRAVEL TIP #2: Pack Light
If you are a first-time conference attendee, packing for a conference can present quite a challenge.
Especially if you want to just bring carry-on luggage, so that you don't have to check your bags on the airplane, how do you pack everything you need into such a small piece of luggage? Well, this can be easier than you think!
When attending a conference, I always recommend dressing in business casual. When you look your best, you feel your best, and you make your best first impression.
If dressing in shorts, a t-shirt and sandals is considered casual, and wearing a full suit is considered formal, business casual lies somewhere in the middle. Go ahead and Google "what is business casual" for more details on exactly what constitutes this style of dress.
If the conference is indoors, as most are, you'll want to bring layers of clothing. Even if it's hot outside, most conferences usually have the air conditioner on high, so it's good to be prepared with a sweater or jacket you can throw on.
Here's a quick and easy checklist for what garments to pack in your carry-on luggage:
Fresh undergarments and socks for each day
Dress shirts – 1 per day
Slacks, pants, skirts or dresses – 1 per day
Comfortable but professional-looking shoes – 2-3 pairs
2 x sweaters or blazers
Toiletries
Attending a conference is a not only an event to learn from keynote speakers and expert panels, it's also an opportunity to meet other conference-goers and expand your network. This is why it's important to dress professionally but comfortably, so that you feel confident and make a great first impression!
TRAVEL TIP #3: Avoid Jet Lag
Jet lag can affect even the savviest of travelers. If you change time zones, resetting your watch may be simple… but resetting your internal clock can be more of a challenge!
Here are several ways to lessen the effects of jet lag, so that you can arrive at your conference refreshed and ready to rock:
Reset your body clock before you fly: Shift your bedtime by an hour or two in the right direction starting three days before your trip.
Drink lots of water before, during and after your flight: Experts recommend that you drink at least eight or more ounces of water for each hour you're in flight, in addition to beverages you drink with meals. Even if you don't feel thirsty, drink up! Thirst doesn't necessarily precede the symptoms of dehydration, which can set in without warning.
Reset your watch: As soon as you board the plane, change the time on your watch to the new time zone you'll be in when you land.
Avoid drinking alcohol or ingesting other depressants: This includes avoiding medications such as Dramamine or other motion-sickness drugs before and during your flight. These can be extremely dehydrating.
Nap when you arrive if you need to. Daytime naps are okay to take after you arrive, but keep them to 30 minutes or less so they don't interfere with your nighttime sleep.
The most important thing you can bring to a conference is a great attitude!
Conferences present exciting opportunities to connect with people and expand your professional and personal horizons, so the better prepared you are, the more you'll take away from one!
There our countless success stories out there from conference attendees about powerful knowledge gained and timely connections made, so remember the absolute most important thing you can do to prepare for a conference is to be positive, optimistic and open-minded about the experience.
Now that you're prepared to attend any conference with confidence, be open to the gifts you'll receive through the experience. It's not an exaggeration to say that a great conference can positively impact your entire direction of your life!
Will you be attending the best personal development conference of the year? Act now and save BIG with my exclusive Friends & Family discount!
If you have a strong sense that there's more to life than what you've been experiencing so far, and if you know that you'd like to be more, do more, and give more, and you know that your time is NOW…
Then my three-day dream building immersion experience, DreamBuilder® LIVE, is the place for you to be!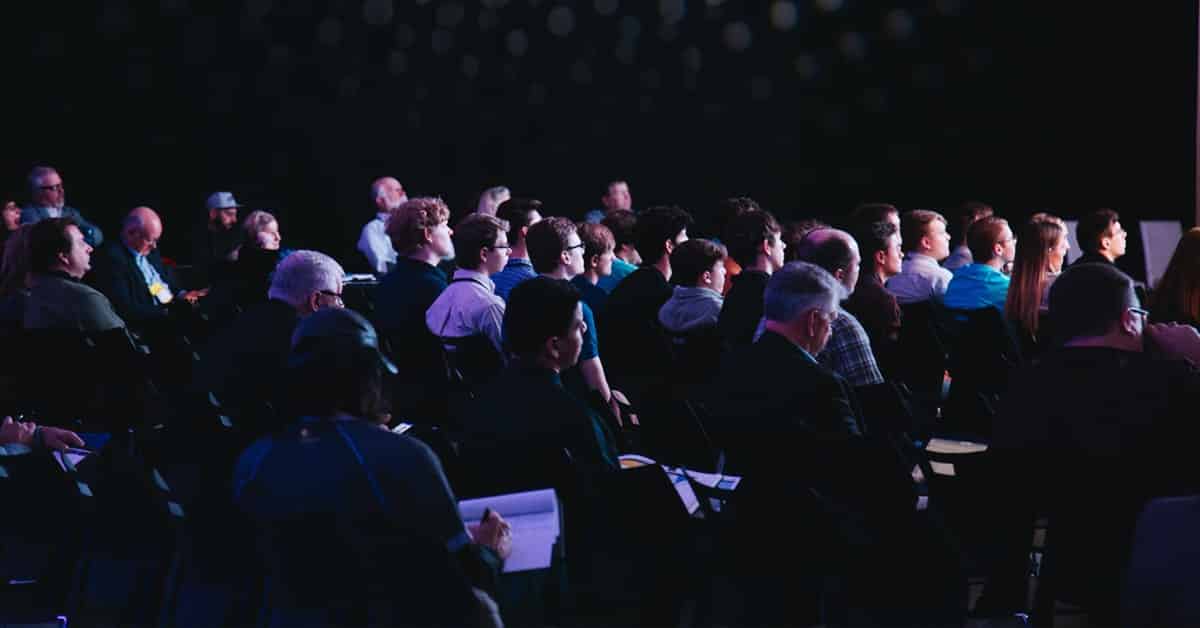 At DreamBuilder® LIVE, my team and I will guide you through the three stages of dream building – Blueprinting, Bridging and Building – the proven, reliable and repeatable formula to creating a life you love living, faster and more easily than you ever imagined possible.
There, you'll be joined by hundreds of other dream builders from all walks of life and from around the world, all working together to create a vision-driven life… and all in a safe, supportive environment designed to support you and your dreams, free from the distractions of day-to-day life!
To find out more about DreamBuilder LIVE (including how to save BIG with my exclusive Friends & Family pricing), click here now >>