In Celebration of What Would Have Been My Mother's 100th Birthday, Here are Some of the Most Valuable Lessons She Taught Me – Plus a Free Gift I Know You're Going to Love!
My mother, Dorothy Manin, passed away in 2010 and today marks what would have been her 100th birthday.
In honor of this very special day, I'd love to share some of the significant lessons she taught me both as a young girl and as an adult.
When Dorothy was barely four years old, her sister was 18 months old and she had a brand new baby brother, her mother died.
Dorothy's father, my grandfather, was heartbroken. He moved to Portland, Oregon where his mother, my great grandmother Mary, could help him raise the children.
Financially, times were very, very tough in those days. Yet in their home, there was always an abundance of love.
My mother was taught that there was no "right" or "wrong" way
Although Dorothy and her grandmother loved each other, as time went on, they found they had some different opinions.
When Dorothy was a young adult, her grandmother said to her,
"Look Dorothy, as long as you're in my house, we're going to do things my way. When I come to your house, we'll do things your way, because there's really no right way or wrong way. There's just your way and my way."
Years later, when Dorothy was married with a home of her own, her grandmother came to live with her for a number of years until she passed away. She would continue to say,
"There's no right way or wrong way. There's your way and my way, and now it's time for us to do it your way."
My mother then taught me this philosophy. When I was growing up in her house, she would say,
"This is your room. You get to do it your way in your room. In the rest of the house, it's my way."
My mother passed on to me a practice that she fondly called "putting a zip in your day"
Dorothy was a child of the Great Depression. Her family didn't have much money. She and my dad both struggled with money. They had tremendous amounts of love, but in their early marriage, my dad was in World War II. Then he went back to the Korean conflict.
She raised two little girls, worked and ran a household on her own during those years. But no matter what the conditions were, there was no reason we couldn't have fun and put a zip in every day. To choose happiness.
To Dorothy, it was a matter of attitude, not money.
Whether it meant eating a PB&J sandwich on fancy china, drinking orange juice out of a crystal goblet or driving a different route home, putting a zip in the day meant doing something a little out of the ordinary to shake up your normal routine.
Dorothy Manin knew how to lovingly parent her adult children
It's one skill set to parent a younger child who lives in your home and to be responsible for their safety, their choices, where they go to school and so on.
But when your child becomes an adult, it's another skill set to still be able to exert your influence in a way that contributes to a healthy, happy relationship.
One of her philosophies about parenting adult children was that you never give advice unless you're asked, or you ask permission first.
I remember a time my mother came over to my house. At the time, I was a young mom with two little boys. My eldest son hit his little brother and I said to him, "bad boy!" Out of the corner of my eye, I saw my mom give a little jolt.
She then said to me,
"I won't give you any advice if you don't want it, but I have a thought about that. Could I say something?"
I said,
"Okay. What do you want to say?"
She said,
"I don't believe there are bad children, only that children sometimes do bad things. I know that kids really respond to what we tell them they are, so maybe it would be better to say, 'That wasn't a good thing,' or, 'That was a bad thing, but you are a good boy, and I know you can do better than that.'"
Her advice that day completely changed the way I parented my children. But more than that, the way she gave the advice changed my life.
She asked permission to give that kind of advice and she didn't ask that question only once.
For the rest of her life, my mother parented me in this way.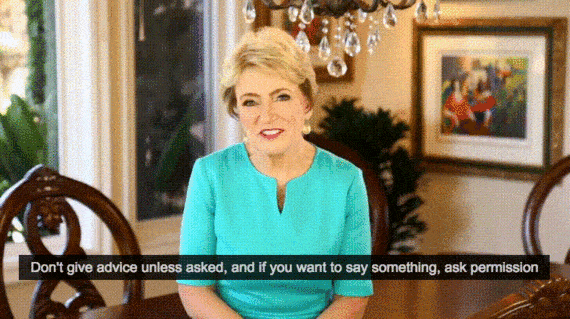 This form of parenting has completely influenced the way I parent my adult children. I make sure I don't give advice unless I'm asked, and if I want to say something, I ask permission.
I'm also not attached to them taking my advice, either. Sometimes they will take my advice, but sometimes they won't.
When Dorothy's husband, my father, passed away when my mother was 84, she went through a very dark and difficult time
For six months, she was depressed and we were all concerned about her. We took her places and tried to do things that would help fill her time.
Finally, one day, six or eight months after my dad had died, she called me.
Although my mother knew about my work helping people turn their dreams into results, she'd never taken my courses or studied any of the concepts I taught.
She said,
"Well, I guess if God's still breathing me, then there's something I should do with my life. Let me try that dream-building thing you do."
I said,
"Okay. When do you want to start?"
She answered with,
"Well, what can we do now?"
So I asked her if there was anything that she'd ever thought about doing that she hadn't done or any interests she hadn't explored. We were looking for an opening to new life.
During that conversation, she mentioned something I never knew. She'd been interested in china painting for years but had never tried it. She decided that she wasn't sure she was going to take a china painting class, but she would at least look into them.
Over time, Dorothy not only took classes, she dreamed of creating gifts that she would give all of her children, grandchildren and great-grandchildren. She dreamed that maybe even one of her pieces would be in a gallery in the northwestern United States.
Over time, she became so good that not only did she leave us all legacy gifts of her china painting, but some of her work was featured in four different galleries in the northwest.
My mother was inspired to leave a legacy
As Dorothy approached her 90th birthday, she started thinking about what else she could do. She was a well-known china painter by that point. She had made beautiful gifts, but she wanted to do something that left a legacy.
Because she had been a woman who had gone through two wars, and her husband had passed, her dream was to create a nonprofit that offered micro loans to the spouses of service people who had been killed or injured in either the Iraq or the Afghan war.
And so that's what she did! She started this nonprofit that went on to help many, many people in the Pacific Northwest. Dorothy never let age be a deterrent.
One of the ways she funded this nonprofit was by creating her legacy piece – a book called 90 Ways to Put a Zip in Your Day.
A couple of years after my mom died, I was speaking in Seattle, and I had just finished my lecture. People began to line up to talk to me, including an elderly couple.
They thanked me for the talk, and then they said,
"We have your mother to thank for our new dining room table."
I was a bit confused and told them my mother had died a couple of years before.
They told me they were talking about her book, 90 Ways to Put a Zip in Your Day.
The elderly woman said that my mom had tried every one of the 90 ways she listed to put a zip in her day and they had all worked for her, so the couple had decided to try each of the ways themselves.
When I asked how this was related to getting a new dining room table, she said that one of the ways listed was to have sex on the dining room table!
Perhaps your mother taught you a valuable skill, or maybe she even taught you how not to be, helping shape the wonderful person you are today
Dorothy Manin left many, many legacy gifts for me. I'm grateful that those gifts are continuing to grow and expand in my life because of the way she influenced me.
No matter how you feel about your relationship with your mother, join me for a moment, right now, in sending a big wave of gratitude out into the Universe for the woman who gave you birth.
This human being gave you the opportunity to live this beautiful life.
Even if your relationship isn't what you'd love for it to be, you can still be grateful for the lessons this person may have taught you.
Would you like to discover more ways to put a ZIP in your day?
Here's my FREE gift to you!
In honor of my mother's 100th birthday, I'd love to give you a free digital copy of her wonderful book, 90 Ways To Put a Zip In Your Day.
The special book is very dear to my heart and something that my mom created a few years before she passed.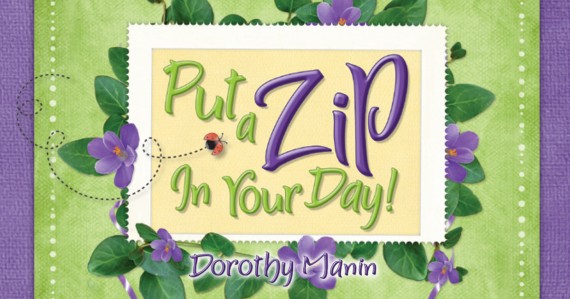 Apply even a few of the principles in the book to your life, and they will absolutely help you shake up your normal everyday routine and add a little more fun and spontaneity to your life!
Click here for your free copy of 90 Ways To Put a Zip In Your Day >>