It's the moment you both know you're at the start of something special.
That said, we've all had that awkward kiss!
They're not a deal-breaker by any means (it's hard to screw up the right thing afterall), and he'll probably get over it if it happens to you…
BUT – when you can anticipate the kiss and be fully present and fully ready, you can give him the kiss of his life
But if you miss that moment…
A potentially amazing connection and long-lasting relationship could get derailed… and completely fizzle out.
Which is why I want to talk today about the 8 definite giveaways he wants to kiss you.
If you spot these 8 signs right, it will help you bring your very best to that special moment!
See there's kind of a "secret code" every man unknowingly shares that tells you immediately if he wants to kiss you. And I'm about to reveal that code to you…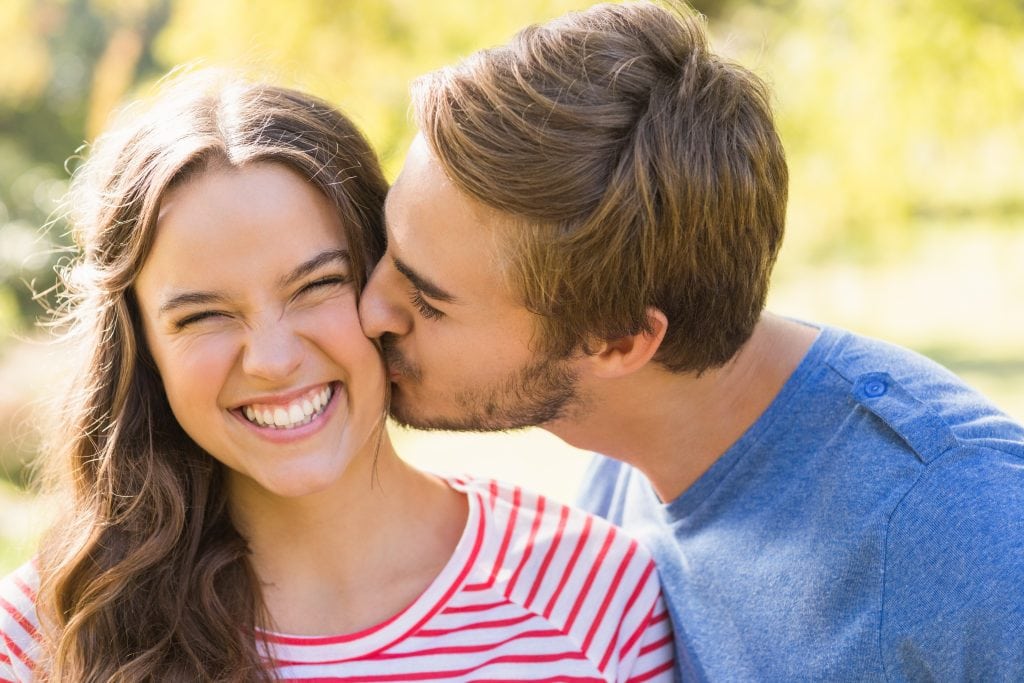 The 8 embarrassingly clear signs he wants to kiss you
As you read, I invite you to think back on when you might have seen these behaviors before. You might be surprised who's been thinking about kissing you… 😉
Sign #1: He stalls when leaving…
Picture this, you're both leaving the date, he doesn't have much to say, and he's trying to make small talk. If he's stalling, he will be fidgeting with his keys and giving you long silent pauses. What he's doing here is building up the courage to make a move and kiss you. If you maintain eye contact, things could get pretty steamy here!
As we'll discuss in more depth later, awkwardness isn't always a bad thing. It means his mind is occupied… Take this as a compliment.
Sign #2: He forgets what he was talking about while looking at you…
In my Cracking The Man Code program I explain how men have different 'apartments' in the brain. Everything is separate and we can only be in one apartment at any one time.
What you see happening when he forgets what he was talking about is that he's left the conversation apartment and gone into his visual apartment. Here, he can admire you and imagine kissing you.
You might see this if you're telling him a story, and then wait for a response. This could catch him off guard and he might say something like "I'm sorry can you say that again?". If you get that sort of response, you know he was in the visual apartment, doing some admiring!
Sign #3: He'll lean in to tell you a secret…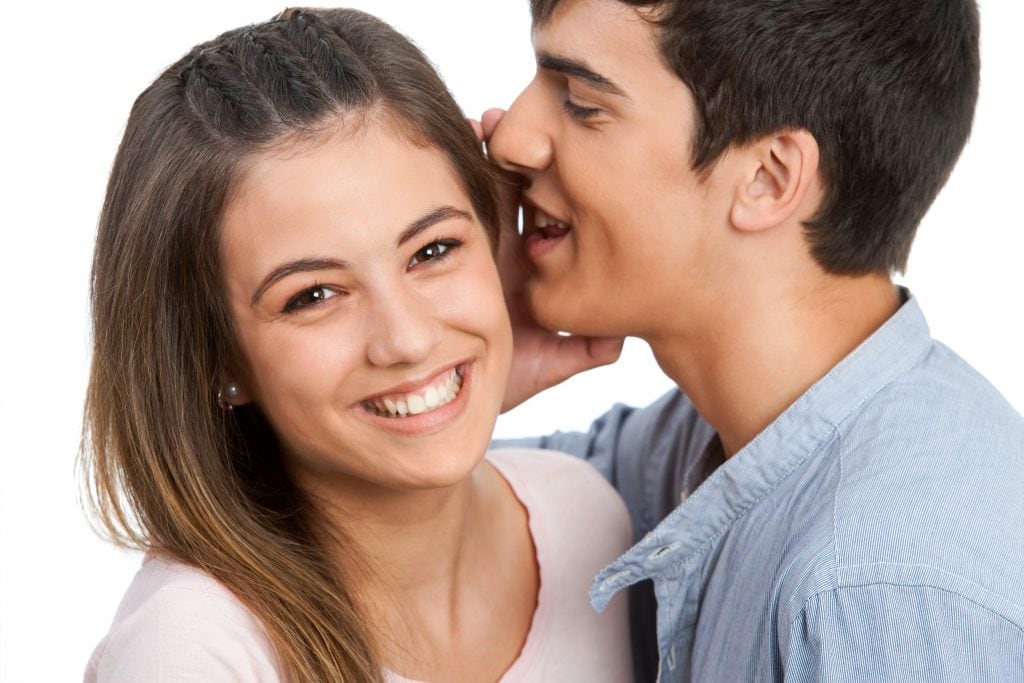 What he's doing here is testing the boundaries to see whether or not you feel comfortable getting close to him. You might notice that he tries whispering in your ear, or even just leans closer when talking to you.
If you feel comfortable, encourage him by reciprocating the same body language. It might just be the confidence boost he needs to go for the kiss!
Sign #4: He looks at your lips when you're talking…
Ever heard the phrase "Where attention goes, energy flows"? Well it also works the other way; "Where energy flows attention goes". If his energy wants to kiss you, his focus and attention will be drawn to your lips!
You can often see men do a playful "triangle gaze" when they're thinking of kissing you. If you weren't aware, the "triangle gaze" is where he will look at your right eye, then left eye and then look at your lips briefly before moving back to your right eye again (His gaze forms the shape of a triangle). This can be purposeful on his part but can also be an unconscious giveaway that he's focusing his attention on kissing.
Sign #5: He licks or bites his lips…
Again, this is often a subconscious cue he's preparing for the kiss. People will subconsciously touch parts of themselves where they want to be touched. In response to this, you could playfully gaze at his mouth or even bite your own lip.
Sign #6: He moves the hair out of your face…
This is another clear sign he's trying to get close to you. It's intimate, sometimes sensual, and moving the hair from your face is something guys definitely don't do with just friends! Take this as a clear sign he wants to build the romance.
Sign #7: He gets extra shy or awkward around you…
As I mentioned earlier, awkwardness isn't always a bad thing! The kiss barrier can feel like a major obstacle for a guy, because it changes the state of the relationship.
He goes from being 'just a friend', to an undeniable and vulnerable state of 'I am attracted to you'. This can feel scary for men because they may not know how you will react.
Often in these shy, awkward moments, his mind is imagining the kiss and picturing your reaction. A lot of women don't know that guys will actually plan out the kiss in their mind's eye. And when his brain is in the "visual apartment," thinking about how the kiss will look and feel and how best to approach it, he might come across as more awkward or shy than usual!
Sign #8: He asks if he can kiss you…
Some guys will come out and ask the question directly: "Can I kiss you?"
You may think that when a guy asks for permission it kills the mood. But remember this is just his way of trying to progress past the awkward mental barrier. You're the one who has the choice to either let it kill the mood and shame him for asking, or choose to go with it and respect him for being bold enough to ask, and respectful enough to want consent.
If he does ask for the kiss, you can say something playful like, "Let's find out." Or, if you're feeling confident simply say, "Yes, you can." This is a bold step for both of you!
Of course, if you'd prefer something a bit more casual, you can just say, "I'd like that."
While the request itself can seem awkward, you can build it into a hot moment for the two of you based on your response. The power is in your hands!
Putting this into practice
So there you have it…
The 8 signs men unknowingly give away which show you they're thinking about kissing you!
If you encounter any of these signs (and you're ready for that kiss), it's important to respond with open body language. Hold a lingering gaze into his eyes, smile and lean in close. These subtle cues should be enough encouragement for him to know it's time to spark the fire and kiss you!
I encourage you to use your new insights into the male "secret code" to experience for yourself just how easy these signs can be to spot!
And, if you don't want to wait until he's ready, and giving off signs — and would rather create that moment when you are ready…
I invite you to check out my free eBook: 15 Phrases That Ignite Desire in a Man
In this eBook, I share the 15 phrases, word-for-word, that are guaranteed to ignite the desire in your man and amplify his attraction for you.
I hope you've found this article useful today!
Now I want to hear from you…
What experiences have you had with these signs? Were any of them unexpected? Do you do anything in particular to encourage men to lean in for the kiss?
Go ahead and share with me in the comments below — I love hearing from you!