This children's book will open your eyes to a whole new way of living.

Mat Boggs
I read a children's book recently so full of wisdom, it blew me away!
It was not only a fun read – something I can't wait to share with my daughters – it reminded me of an extremely important lesson of life…
Something that you absolutely NEED to be aware of if you're going to truly succeed in getting the love you want.
What is that lesson?
Well, it has to do with taking chances…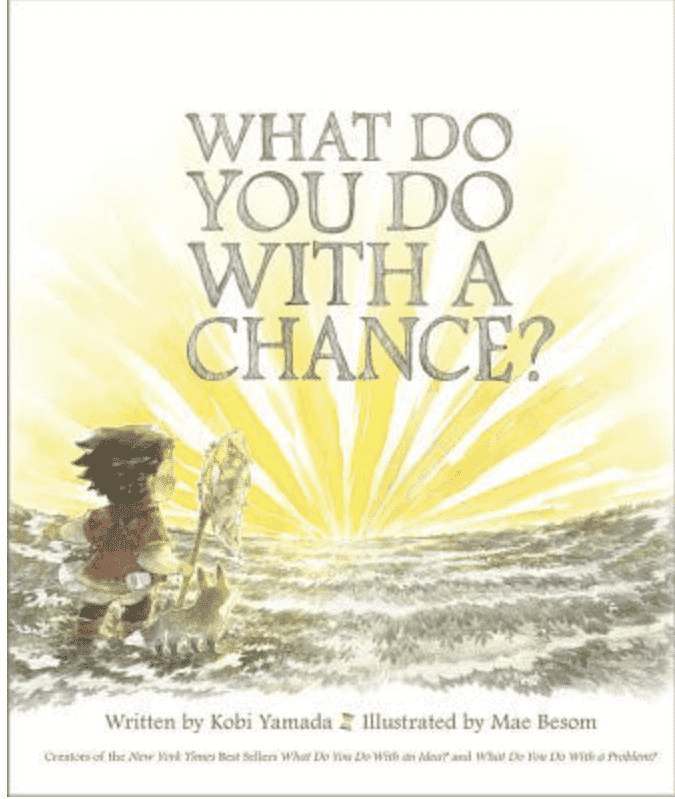 Every day is an opportunity to create something beautiful
While growing a business, or getting in shape, can take weeks, months and years to see real progress, your love life can completely transform in an instant.
If, that is… you are open to the opportunities that will take you there.
The sad thing is, most people aren't. Most people get sucked into negative, limiting thinking.
"Well, my love life hasn't worked so far, so it's not going to ever work."
Or, they're so bogged down in busywork they forget to keep their eyes open to the hints and helping hands of the Universe!
Which is why I want to talk to you about this amazing children's book today…
Reading it reignited my passion and awareness for the power of taking chances, and I know it can do the same for you.
The book is called "What do you do with a chance?" by Kobi Yamada.
In short, it follows a young boy in a world where chances come alive and fly around seeking people to claim them. In our story, a chance flies by, greeting the boy, but he's hesitant to grab it. He lets it pass, and after it flies away, he begins to regret not taking it.
More chances come and go, he fails a few times trying to reach them and ends up feeling embarrassed for even trying (sound familiar?).
All the failed attempts make him discouraged and he decides not to even try to take chances anymore. He's scared of what people will think when he fails.
In an inspiring ending, the boy eventually rediscovers his courage and the second he lets go of his fears, a huge chance comes his way. This time… he's ready!
It's a great metaphor for what many people experience in life.
It teaches an important lesson: What's really holding you back? How can you open up to new opportunities?
Even as you read this, you might notice mental blocks shifting in real time (sometimes ones you didn't know you had!).
The Door To Your Dream Love Life Is Right In-front Of You
Reading this story reminded me that every day is a chance for something new. It's the chance for an opportunity, regardless of what's happened in the past. None of that matters. Whether you had a huge failure, you were embarrassed for trying or you simply gave up on looking for those beautiful opportunities before.
What I know for sure is that when you open up to the abundant opportunities right in front of you, your life will blossom bigger, brighter and more beautiful than anything you've experienced before…
As long as you Take A Chance!
By now you're probably thinking. Mat, I can see where you're coming from. I can see from the story that chances are there to be taken…
And that if I sit around and watch them go by, I might miss them forever…
But how can I actually start to live this in my life? How can I spot and open up to the opportunities that will take me to that new, amazing relationship, or that life-changing experience?
There are seven main ways you can open to life's golden opportunities and take the chances that will change your life:
Let people know you're out there

To let people know you're out there means to make yourself more available. To show that you're a seeker of life and that you want to soak up all it has to give. Become the person you want to be, the person people want to hang out with and the person who lives life to the fullest.

Say goodbye to your comfort zone

Saying goodbye to your comfort zone is, as the name would suggest… uncomfortable. Often, we hold ourselves back by limiting what we believe we can have, do or be. When we start to change our thinking on this, we start to see more possibilities. We become more open to taking chances and we accept risks as a part of life.

Share what you've got

This is all about realizing that you have a lot to give to the world. Every person is unique, everyone can offer something to someone. It's time to find what makes you unique and start sharing that with people around you.

Invest in a mentor

In my opinion this is possibly one of the most valuable steps when it comes to taking chances and finding love. Many of us have no doubts about learning from experts in other areas of life — sports coaches and school teachers are two obvious examples. Yet still do we rarely consider the possibility of mentors in life, love or success! High quality mentors can help you uncover your blindspots, overcome obstacles and sticking points, and ultimately, reach your goals faster.

Keep track of your accomplishments

This is a fun, easy way to remind yourself that you have taken chances in the past, and those chances have paid off!

Praise others

When we start noticing the good in others, and in the world in general, we start to see more and more good appear. We start to see good in ourselves and opportunities where we can create more good.

See what areas you can improve on

Sometimes all you need is to take a step back and to look at your life as if through the eyes of someone else. That way, you can start to see things in a new perspective. You might pick up on things you didn't notice before and discover room for improvement. And that might just be the push you need to getting the love you want.
Before you go today, I want to do something special…
Offer you a chance that could change your life! 🙂
Whether you're struggling to find that special someone to make you feel loved and cared for, or you simply want to take your relationship to the next level…
I encourage you to check out my Manifest Your Man Program. This is a deep dive into exactly how to attract the relationship you want — and how to use these powerful insights to increase attraction, connection and intimacy with any man you choose!
Now I want to hear from you…
How did this story resonate with you? What chances have you taken in the past that paid off? What are you already doing today to open yourself up to new opportunities?
And finally, give the gift of wisdom. What advice can you share with someone right now that'll spark their fire?
Go ahead and share with me in the comments below – I love hearing from you!