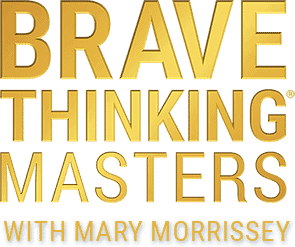 The Art & Science of Achieving Extraordinary Results
You Only Get One Precious Life…
If You're Ready to Stop Creating Average Results Unconsciously – Let Mary Morrissey Help You Deliberately Create a Life You Absolutely LOVE Living!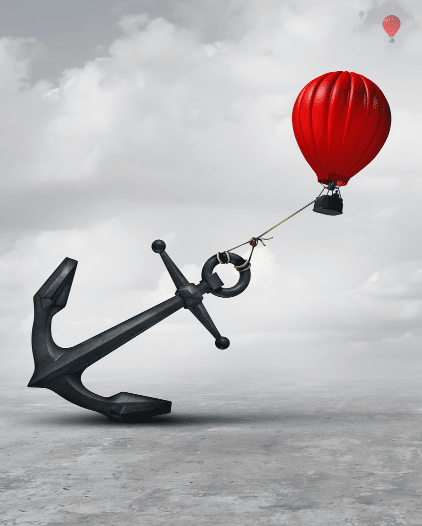 Do you dream – even feel called – to do more with your life?
Yet, no matter what you do or try, you can't figure out how to do more than create results that are more than average or good – and certainly aren't as extraordinary as what you'd like to experience?
You deserve and are capable of creating an extraordinary life. But you've been trained in "common hour" thinking that produces only average results.
Common-hour thinking focuses on existing conditions. You make decisions about what dreams are 'reasonable' and within your grasp based on where you are today.
But to create the extraordinary life you dream of, you need to start with your vision… and then move steadily toward that dream just like a rocket breaks itself free of the gravitational pull of earth.
Creating dreams that others – and even you – might deem out of reach starts on the inside, by learning the process we call "Brave Thinking®."
Discover the Proven System Used by Centuries of
Bold Visionaries to Achieve the "Impossible"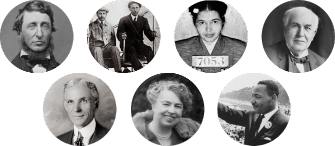 In BRAVE THINKING® Masters, world-class master coach, speaker and DreamBuilding expert Mary Morrissey will train you to think bravely, act boldly, and accomplish brilliantly in every aspect of your life.
Over the course of 12 months, you will learn the same BRAVE THINKING® technology that Ford, Wanamaker, Firestone, Edison and many other brave thinkers exemplified to live their purpose, create extraordinary results, and make a significant difference in the lives of others.
Joining this group of elite Brave Thinkers means that, like them, you will become a master at accomplishing more with less effort, and seeing abundance and success appear with greater frequency and ease!
For over 40 years, Mary has supported and coached thousands of people worldwide in becoming masters of BRAVE THINKING® and in creating a life they love living. No matter what obstacles you face today, or how many times you may think you've failed in the past, Mary knows first hand how to help you break through your limitations and create the results you most desire.
But You Can't Do It Alone...
Trying to create an extraordinary life on your own is nearly impossible.
Just as gravity pulls objects launched into the air back to earth without fail, your existing paradigms (or thinking patterns) will naturally fall back into their lifelong groove of average, condition-based thinking…

Unless you learn a proven system for permanently transforming your thinking – a shift that aligns your vibration with the dreams you're trying to create.

Unless you're mentored by someone with a track record of success in her own life – and in guiding thousands of others in to create similar transformation.

Unless you're supported over a sustained period of time by your mentor and a community of like-minded high achievers who are committed to creating transformation in their lives – and to supporting you in your own transformation.
Discover the System That Reprograms Your Subconscious Mind to Create a New Set Point That's in Harmony With Your Dreams
If you truly desire to achieve new extraordinary results, research shows you need a consistent program of study with an experienced mentor, over a sustained period of time. Leveraging her nearly 50 years of mastery, and a track record of proven results, Mary has created the most cutting edge program for producing consistent breakthrough results – something you simply cannot find anywhere else.
Mary is both dedicated and highly invested in supporting you in creating an exponential leap in your results, at an accelerated rate, with extraordinary ease. She is ready to stand beside you and walk with you every step of the way.
When I started working with Mary Morrissey I was generating $100,000 gross income, now I am generating close to 2 million dollars gross income, and my husband is building his dreams as well!"
Linna Tanny,
Entrepreneur, Cherry Hills Village, CO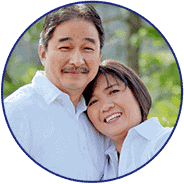 All It Takes Is 5 Minutes a Day and 1 Hour a Week
Mary has distilled her decades of learning, teaching, and coaching into an easy-to-follow system. All you need to invest is 5 minutes a day - plus 1 hour a week.
You can find 95 minutes a week to invest toward creating the life you're meant to be living, right?
How Will Becoming a Brave Thinking Master Impact Your Life?

Develop an unshakable mindset of confidence and success – be the rock for others in times of chaos, the shining light in times of darkness. You can't escape challenges, but you can learn to navigate it with grace and skill.

Stay on track, moving forward to your dream – no more feeling confused where your life is headed, directionless, disoriented, lost. No more feeling stuck, looping in the same old problems and issues, making progress for a few days or weeks, only to slip back into the same old lifestyle.

Rewire your brain and mind to notice opportunities, abundance, etc that others miss – abundance is infinite, all around us. Most people just don't see it, and you may be missing the signs too… because you were never taught to!

Stop settling for "good" – and create results that are extraordinary. We are trained in "common hour thinking"… average thinking that is limited by current condition. Discover the proven, reliable, repeatable system for creating a life that you absolute love – no matter what your current conditions are.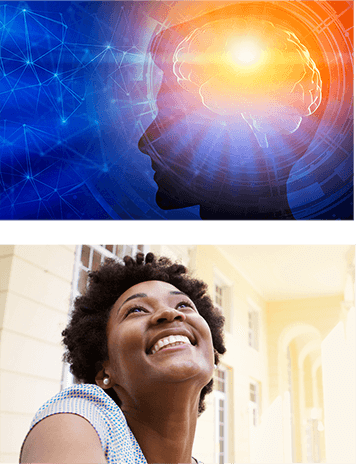 Your 12-Month Master Class with Mary Morrissey Program Includes:
5 Minutes a Day Mindset Training
Each day you will receive a dose of "Mary Motivation" and powerful mindset training. These 5-minute inspirational daily videos will help you eradicate limiting thoughts, stay tuned to your vision, and take inspired action in the direction of your dream each and every day.
1 Hour a Week Mentorship with Mary
Connect with Mary each week in a Master Class to help you stay inspired, increase your awareness and create consistent results. Discover specific solutions and methods on how you can apply Brave Thinking® Tools directly to your life and your dreams. Stay tuned to a high vibrational frequency with Mary so you stay on course with your dream.
Twice-a-Month Paradigm Busting Group Coaching Calls with Your Master Coach!
Get Coaching for a FULL YEAR with Your Master Coach on powerful, private group Q&A calls twice-a-month! When self-doubt sets in, life pulls you off track, and you feel stuck and unable to take action, your Master Coach will have your back, lift you higher and support you every step of the way!
Accelerate Your Brave Thinking® Masters Results With These Additional Highly Valuable Bonuses!

A DreamBuilder® LIVE "All-Access Pass" for You and a Guest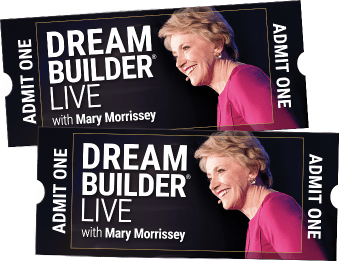 Attend DreamBuilder® LIVE Events over the next 12 months and bring a friend, family member or colleague to share the experience. Repetition is the first law of learning. Re-immerse yourself in a field of possibility as you increase your momentum, increase your awareness, and receive life-changing insights. These are events of a lifetime and create a powerful way to connect with your special guest.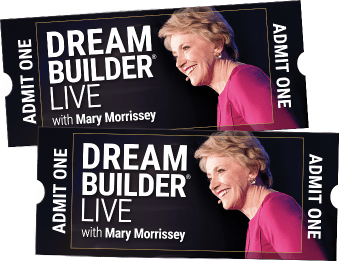 Receive Mary's Personal Wisdom Library
A personal treasure for a lifetime
This is a beautiful set of Mary's hand-selected transformational books that are the cornerstone of Mary's personal study for over 50 years. Mary will unlock the ageless wisdom in these sacred texts and teach from these books during the 12-month Brave Thinking® Masters Class. You will treasure this highly valuable gift for a lifetime.

Brave Thinking® Masters Private Resource Site and Facebook Group
Designed for the busy professional 24/7 easy access
Mary is an expert in helping busy professionals achieve extraordinary results. No matter your schedule or location, you can access every one of Mary's inspirational Brave Thinking® Masters Classes that have been recorded and uploaded to your very own private resource site. You get 24/7 access to tools, answers, clues and codes, plus powerful surprises Mary gives you throughout the year. In addition, you will be able to connect and network in your private Brave Thinking® Masters Facebook group.
Ready to Go Further, Faster and with Less Effort...
Radically Transforming Your Life in the Next 365 Days?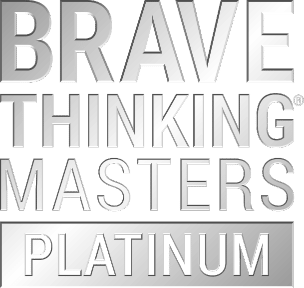 Upgrade to Brave Thinking® Masters PLATINUM to Work More Closely With Mary and Her Expert Team in an Exclusive, Intimate Setting
Personal Mentorship & Powerful Results
THIS is the catalyst you've been waiting for to change your current paradigms and transform your dreams into reality.
PLATINUM Members Have Exclusive Access to:

Plug Into Mary's Awareness and Mastery – – Discover how Mary applies Brave Thinking® Tools to create multi-million dollar business results for herself, her clients, and how you can up-level your results in your life and business.

Gain Access to Extraordinary Industry Experts who will help you quickly recognize your hidden blocks, and share cutting-edge strategies, systems and solutions specifically designed to help you break through the challenges that are holding you back – and accelerate the momentum toward your dreams.

A Super Network Of Like-Minded High Achievers who are ready to share key connections, resources, perspective, feedback and moral support. Finally get the support and accountability to do whatever it takes to stay in alignment with your dreams – so you can finally unlock your fullest potential and create extraordinary results.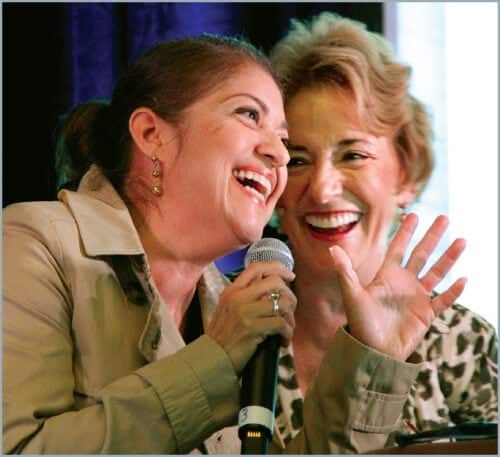 Get the Personal Time and Specialized Mentorship With Mary You Desire Through 2 Added Powerful Program Components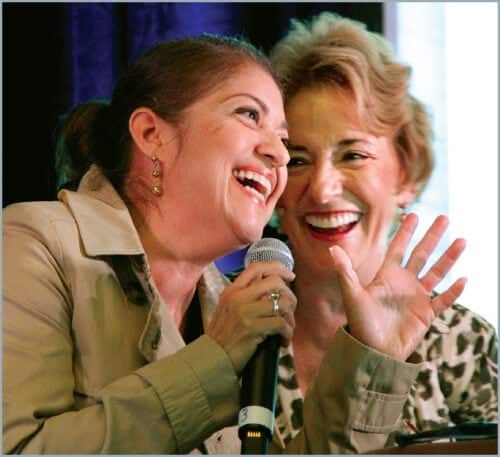 Brave Thinking Masters PLATINUM includes EVERYTHING in the Brave Thinking Masters Program: 5 Minute Daily Mindset Training, 1 Hour Weekly Mentorship with Mary, Twice-a-Month Paradigm Busting Group Coaching Calls with Your Master Coach, and all Brave Thinking Masters Bonuses! PLUS, you'll receive 2 more life-changing components to skyrocket your growth and success:
The 5-Day Brave Thinking BREAKTHROUGH Experience
An in-person powerhouse event led by Mary and your expert faculty in a beautiful resort paradise to help you experience the rapid breakthrough of a lifetime!
4 Platinum-Level IMMERSION 2-Day Virtual Events with

Mary and Your Expert Faculty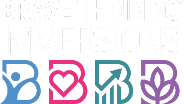 Be inspired to act, motivated to grow, and challenged to expand in every quadrant of your life!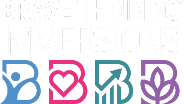 Here's what to expect during the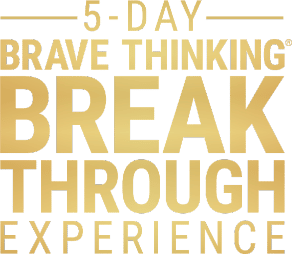 Receive sage advice from Mary and her expert faculty in all 4 quadrants of your life! During 5 powerful days you will receive world class strategy and laser coaching for your dream, book, project, or major initiative designed to help you create breakthrough results.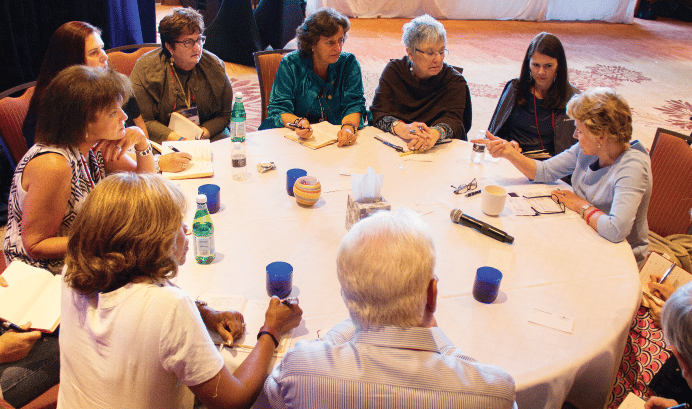 Experience the 5 stages of a breakthrough to create accelerated success.

Release inner blocks with ease to achieve the measurable results you desire.

Increase clarity and confidence through personalized, laser-focused coaching and world-class strategies from Mary and your expert faculty.

Network with an elite group of high-achievers and Brave Thinkers who are committed to supporting your exponential growth and achievement.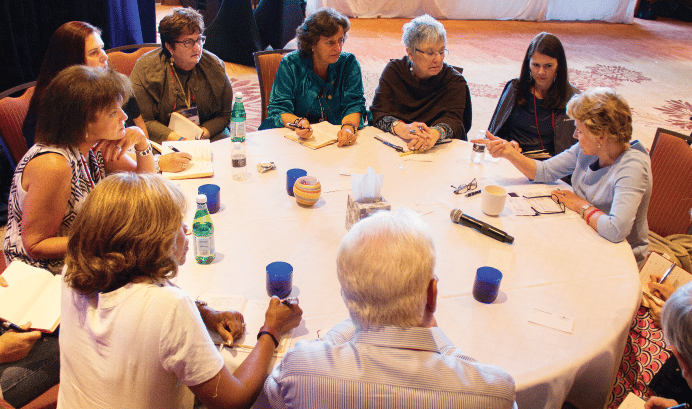 Powerful Mentorship & Expert Support In an Exquisite Resort Setting
At the 5-Day In Person Breakthrough Experience, Mary brings to you the expert faculty she herself has partnered with in growing her multi-million dollar businesses, and in serving client's transformations all of over the world. Set in an exquisite resort designed to raise the vibration of your mind into expanded awareness.
Mary's expert faculty has world-class expertise in the following areas:
Innovative Business Systems
Effective Leadership & Team Building
Best-Selling Book Creation
Vibrant Health & Well-Being Secrets
Paradigm Busting & Energy Medicine
Rapid Breakthrough Processes
Love & Relationship Resources
Effective Communication Strategies
Bringing Transformational Principles into Mainstream Business
And much more!
Whether your dream just an idea, partially completed, or in need of up-leveled solutions, it's time to take it from where it is now and bring it right into the land of reality!
You are completely supported as you experience the rapid BREAKTHROUGH you deserve to bring forth your brilliance, live more on purpose, prevent burnout and enjoy more work-life harmony!
The first half of your Breakthrough training day is with Mary and your Expert Faculty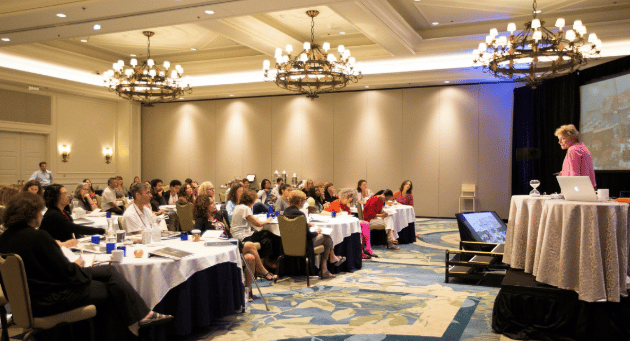 Unlock the doorway to soul and self by taking a deep dive into the 5 stages of a breakthrough with Mary as your personal guide. Mary and your expert faculty will guide you in the transformational footsteps of some of the greatest thinkers of all time.
Get ready to unlock a new system of thinking and being through up-close teaching and powerful activities that will facilitate a true BREAKTHROUGH into more freedom, flow and fulfillment in your life.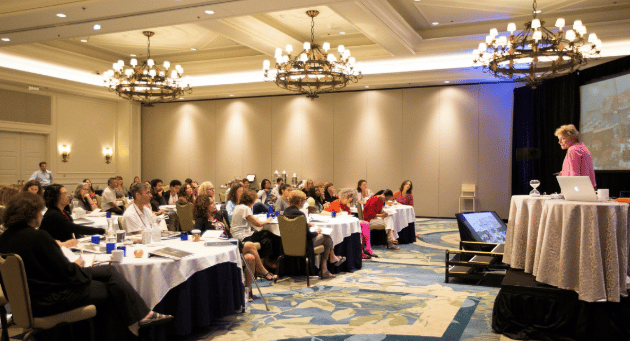 The second half of your Breakthrough Training Day is with yourself and your Brave Thinking Community
Enjoy free time, fun and play, integration and introspection, reflection and renewal, rest and rejuvenation, community and connection, networking and resource sharing.

Quarterly Platinum Immersion 2-Day Virtual Events with

Mary and Your Expert Faculty
Hands-on proven solutions and strategies for inspiration,
motivation and transformation in all four quadrants of your life!

Get personal connection, support and coaching with Mary and your expert faculty each quarter in Health & Well-Being, Love & Relationships, Business & Leadership, and Spiritual Abundance.
Discover advanced Brave Thinking® Tools and practices specific for each quadrant.
Experience a breakthrough in your awareness and increased confidence.
Up-level your vision and ignite your drive to take inspired action.
Once a quarter, these laser-focused deep dives are designed to be the "Miracle Grow" you've needed to help you create the exponential full spectrum life success of your dreams!
The deep dive I experienced helped completely reenergize my business. I left with new passion and a new strategic business plan. The 30 days immediately following my training, my company experienced the best month in sales we've ever had, generating an extra $250,000 in revenue month over month compared to the prior year. I'm so grateful for Mary Morrissey and her team, and so excited about what's to come!
Ross Evans
Inventor & CEO
Special PLATINUM-ONLY Bonuses

Hotel and Meals Covered at your 5-Day Breakthrough Experience!
Enjoy VIP level accommodations at a luxury resort in paradise with gourmet breakfasts, lunches, and surprise activities!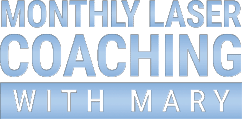 Platinum-Only Access!
Once a month, Mary will connect with you virtually face-to-face to answer questions and provide laser coaching and guidance. You'll be motivated to grow, inspired to act, and challenged to grow in your awareness while you break through limiting paradigms.

Receive personal connection, support and virtual coaching with Mary

Discover advanced Brave Thinking® tools and practices

Experience an expansion of your awareness and increased confidence

Up-level your vision

Grow a deeper connection with your passion and purpose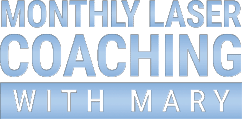 Platinum-Only Access!
Once a month, Mary will connect with you virtually face-to-face to answer questions and provide laser coaching and guidance. You'll be motivated to grow, inspired to act, and challenged to grow in your awareness while you break through limiting paradigms.

Receive personal connection, support and virtual coaching with Mary

Discover advanced Brave Thinking® tools and practices

Experience an expansion of your awareness and increased confidence

Up-level your vision

Grow a deeper connection with your passion and purpose
One of the Best Investments You Can Make in Yourself!
We believe Brave Thinking® Masters PLATINUM is one of the best investments in yourself, financially and spiritually, you could ever make.
Keep in mind that due to the intensive, personalized nature of this program, participation in Brave Thinking® Masters PLATINUM is highly sought after, and extremely limited. Membership is considered on a first-come, first-served basis.
*Participation is extremely limited to an intimate number of highly dedicated individuals.
To be considered for Membership in the Brave Thinking® Masters PLATINUM Program,
contact one of our Program Experts who will take you through the application process.
Today Is the First Day of the Rest of Your Life. What Will You Create?
Your ability to create dreams that matter to you is limited by only one thing: Your thinking.
If you've been given a dream, it's yours to create. The very fact that you've dreamed it means that it is worthy of creating – and that it's within your ability to create.
But you have free will. You get to choose whether to create that dream by engaging in Brave Thinking® – or to continue using common-hour thinking that produces only average results.
So if you choose to stop settling for average and start saying yes to extraordinary…
If you choose to move away from common-hour thinking and leverage the same thinking technology that other visionaries have used to transform our world…
If you choose to make the most of your precious life and the time you have left here on Earth…
Join Mary to become a Brave Thinking® Master.
Learn more and explore which program is right for you during a complimentary, no-obligation call with a program expert.